ST3 Orthopaedic Interview Questions
ST3 Ortho Interview
provides you with our award-winning
ST3 Orthopaedic Questions Bank
of interview questions that you can use to prepare for your interview.
Featuring over 670 unique, hand picked questions written by consultants the the highest scoring candidates and covering all of the stations, using innovative ways to learn including HD anatomy spots, video lectures and interactive images.
Comprehensive answers accompany every question and key topics are outlined in bespoke video lectures. All questions are uniquely designed and selected to prepare you for ST3 Trauma and Orthopaedic Interviews.
All questions have been written by the highest-scoring candidates in their year group and reviewed by senior orthopaedic surgeons.

Together with ST3 trauma and orthopaedic interview questions our online preparation area also features videos covering each station, technical skills videos, anatomy spot tests and CV analysis. If that wasn't enough the system also emails you cases periodically and a study plan guide to help you structure your preparation. Our team also supports you up to and beyond the interviews so if you need any help one of our tutors is here to help.

Online ST3 Interview Prep
ST3 Orthopaedic Interview Online Preparation
£146 £119
Practise orthopaedic interview questions on your phone or home computer. Access till the end of the interview week. Interactive Portfolio, Clinical, Interactive, Technical Skills and List-Planning Questions. Videos and Lectures help boost your knowledge.
Access Up To The Interview Week End

★

Over 670 Unique Questions


★

Comprehensive answers and links to evidence


★

Navigate questions using the Dashboard


★

Questions use case-based format


★

Clinical scenarios including anatomy and X-rays


★

Portfolio scenarios, example answers and frameworks


★

Interactive scenarios with transcripts and explanations


★

List Planning and Technical Skills scenarios


★

Advanced question marker and tracker




★

One price. Right up to the interviews

Purchasing access to the Question Bank is for single person personal use only.
All questions are unique and designed for personal use only.
Copying and distributing access or the questions is strictly prohibited.
Payment is safe and secure via Stripe or Paypal, no Paypal account is required and no payment details are held online by ST3 Ortho Interview. Data is sent securely is via 2048-bit SSL Encryption.
GET A T&O NUMBER GUARANTEED!
We've coached the highest scoring successful candidates at ST3 T&O Interviews every year for the past 7 years.

We're so confident that our question banks and courses are the best we GUARANTEE that you'll get a job.

If you don't we'll work with you until you do. You'll get access to all the preparation materials for the following year FREE of charge and we'll personally work with you to analyse what went wrong and give you the best chance of success.

All we ask is you sign-up to the question bank and complete all of the questions and videos and attend a mock interview course and the knowledge course. This gives the full Ortho Interview preparation experience.
Find Out What Our Past Users Think
I ranked number 1 in the country at national selection this year at first attempt after using your site to prepare for the interview
Ashley, Mersey Deanery, UK
I used your site to prep for the interview, and got my first choice job in the West Midlands, I ranked 6th nationally - I felt the site was invaluable in helping me structure my revision. I'd be happy to help in the future if you want the help
Ben, West Midlands, UK
I don't usually email feedback but just wanted to say that the website and question bank are amazing and helped me rank 2nd in the country. Thanks again.
Samir, Oxford Deanery, UK
I purchased pretty much every ortho question bank and course as this was my 4th attempt. Your's is without a doubt the best and I wish I had bought it 3 years ago. I'll be recommending this to the CTs in my region. Thank you so much!
Mo A, Northern Deanery, UK
I am just writing this email to say a massive thank you for all your help, support and guidance through this year's preparation towards the ST3 T&O interviews. I have been successful in securing a number this year, and this will be in Yorkshire. I would like to say a big thank for your kindness, understanding, guidance and above all genuine and moral support through the process.
Panos, Yorkshire Deanery, UK
Your question bank is amazing. The questions are spot on for the level required and the references, analysis and explanations made my preparation a breeze and helped me get my first choice job at ST3.
Alan, Severn Deanery, UK
Your question bank was invaluable in my interview preparation and worth every penny. Thanks again for all the help at the courses and on the website.
Liam, Wales Deanery, UK
Used your site and got an ST3 number in my top choice NE Thames rotation! Keep up the good work!! THANK YOU!
Lady_Pod via Twitter, NE Thames Deanery, UK
Worth every penny! Got my 1st choice job after using the question bank. It is amazing, thank you so much for your help.
Harry via Facebook, NW Thames Deanery, UK
This is definitley the best resource available for ST3 trauma and orthopaedic interviews, I got my 1st choice job after using the question bank, I think everything they asked me had been covered by the site.
Khalid, Severn Deanery, UK
Dashboard Navigation, Interactive, Visual Questions, Videos, CV Analysis, HD Anatomy Spots and Question Tracker
The Dashboard is the hub of the ST3 Orthopaedic Questions Bank and features interactive, intuitive navigation links making it easy to access questions.
The ST3 trauma and orthopaedic interview questions themselves are interactive and case-based and include radiographs, anatomy and images and videos.
If you are struggling with a question our tutors can be contacted via email and our questions tracker allows you to start up where you left off and to assess your progress by marking questions as incomplete or complete.
Check out the look and feel of the questions bank with our
FREE sample ST3 trauma and orthopaedic questions.
670+ Questions, Evidence and Summaries: The main questions bank features over 670 unique orthopaedic interview questions with comprehensive answers and links to orthopaedic papers but you get much more than just questions.


Anatomy: We have negotiated a partnership with the team at Dissectr. to bring you their HD musculoskeletal anatomy spot tests worth over £150 as part of the question bank price.

CV Analysis: CV analysis, worth £100, from out team of highly experienced CV tutors who have collectively analysed and reviewed over 3000 postgraduate medical CVs.

Knowledge Bank: Our knowledge bank features technical skills videos and HD video lectures covering all of the interview stations are also included which you can watch to consolidate your knowledge between practise questions.

Social Archive: If you manage to get through all the main questions all our quick questions from our social media posts can be accessed too.

Technology First: Our bespoke website technology that makes practising and tracking your progress as simple and effective as possible, on any device, anywhere.
Portable, Responsive, Interactive Design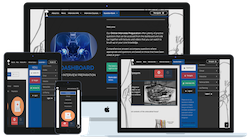 The question bank is truly responsive meaning that it works equally well on mobiles, tablets or home computers.

ST3 Orthopaedic Interview Questions can be accessed from anywhere there is an internet connection meaning you can revise for the orthopaedic interviews between theatre lists at work, on the go or in the comfort of your own home.